Products - accessories - Mirror
A 700 x 550mm crystal mirror characterised by an exceptional silhouette. The base plate is made from hardened curved glass, decorated by vertical strips of light. Lit with two 16W cool fluoroscent bulbs.
$789.00
tpw_0682
Oval without border.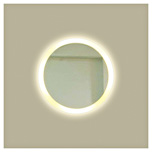 $999.00
tpw_0685
Ablaze Mirrors including mirror box with lights in warm and cool light options 63 watts. By Thermogroup.
$1045.00
tpw_0856