Products - mixers - Sink
Phoenix Toi mixer uses a high quality, German made, Progressive Cartridge. Operation is simple, by turning the mixer dial clockwise, water flow and temperature increases. The cartridge also features a unique, two-click system. These clicks highlight significant stages of the rotation. The first click indicates that hot water will begin to mix with full pressure cold. The second signals when the water has an equal hot/cold mix.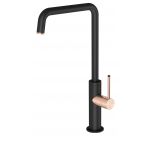 $693.00
tpw_1541
Single function removal hand piece. Suitable for mains presure only. Easy Fix locknut fixing.
$737.00
tpw_1192
Australian designed. Solid brass construction with a stylish matte black finish. 25mm ceramic cartridge technology for longer life. G1/2 BSP Flexible Hoses will connect to most existing plumbing. Available in chrome or matte black finish. Style and elegance embodied within this contemporary design. Supported by a 15 year warranty.
$747.00
tpw_1005
Functionality with Architectural design making a statement with its crisp form and clean lines.
$888.00
tpw_0311