Products - mixers - Wall Set
Evolve Collection intergrate their unique Ramtaps Brass Cartridge technology. Ramtap still manufacturing in Australia. Covered by a compressive fifteen year warranty. Terms and condition apply.
$474.10
tpw_0677
Clean smooth design 33mm Kerox Cartridge. 15 year cartridge 10yr replacement.
tpw_1865
Adding a new dimension BIGA and Phoenix has released a new selection of Slim Line mixers. Allowing for more freedom and movement with it's designer slim line lever handles, these stylish and practical mixers will effortlessly suit any living environment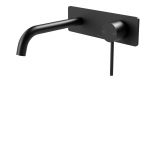 $500.00
tpw_0814
Australian designed and engineered SureFit ® Installation reduces risk of scratching during installation aerator. WELS 5 Star Rated - 6 Lpm.
$661.39
tpw_0745