Products - shower sets - Shower Rail
Chrome. 9 Lpm.
$560.00
tpw_0531
The Konti Column Shower with a new square rail & overhead rose is ideally suited for a family bathroom or the indulgence of an ensuite. NOTE: Please ensure end users are aware that the outlet height is different from standard prior to their purchasing the Konti Column Shower. A surcharge will apply if returned due to this issue.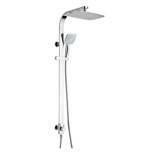 $640.00
tpw_1462
$816.00
tpw_0378
5 function adjustable spray handset and single function overhead shower rose. Stylish quadrate brass rail Height adjustment. By Methven.
$818.00
tpw_0342
Simple, minimalist design. The straight lines and curved edges are perfectly suited to many contemporary styles of bathrooms.
$924.00
tpw_0374