Products - toilet suites - Back to Wall Suite
Feel the joy that only SIENNA-EIGER Sanitaryware can bring to your home. Our Sanitaryware specifically picked with design and functionality in mind to complement any bathroom makeover. Rear and bottom inlet available. Set out 60 - 170mm.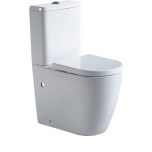 $749.00
tbs_0247
This suite matches sharp edged modern cistern designs with a classic curved pan. The soft close seat provides an innovative detachable feature allowing for easy cleaning. By Caroma.
$756.00
tbs_0213
460mm Pan Height. Universal bottom and rear inlet. Soft close seat. Dual Flush.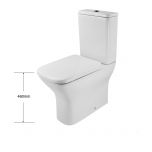 $799.00
tbs_0272
Caroma toilet suites are stylish, comfortable and water efficient. Choose from exposed or concealed wall toilets, traditional or contemporary designs and a variety of water efficient technologies, such as the award winning Smartflush® system WELS 4 Star Rating.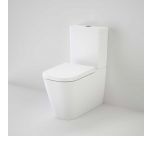 $849.00
tbs_0259
Pure Flush Rimless Flushing. Outlet range 60-170mm. Rear inlet only. Thick soft close seat. Dual Flush.
$899.00
tbs_0271
Pure Flush Rimless Flushing. Outlet range 60-170mm. Rear inlet only. Thick soft close seat. Dual Flush.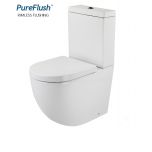 tbs_0270
Fully ceramic cistern and pan. Soft closing seat. WELS 4 Star - 4.5/3 Lpm water sa_0357ing flush.
$968.00
tbs_0244
4.5/3 Lpm 4 Star WELS rating. By Caroma.
$1347.00
tbs_0203
Elegantly designed, Caroma Contura toilet suites are meticulously detailed throughout. Inspired by European trends and designed to suit an Australian sense of style, Contura toilet suites deliver ageless beauty. Featuring an organic curved design, soft-close lid creates a sleek, integrated look. Universal trap for S or P trap installations. Round, Chrome button assembly. Includes Contura fully integrated soft closing seat Supplied with patented Uni-Orbital® connector that extends to any position up to a 50mm radius - only available with Caroma wall faced toilets Easy access cistern tank inside Vitreous china shroud that removes traditional lid lines. Fully glazed box rim and trap for easier cleaning and hygiene control. WELS 4 Star Rating.
$1499.00
tbs_0260
4 Star WELS Rated. 4.5/3 Lpm.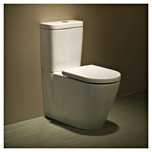 $1514.00
tbs_0207