Products - toilet suites
4.5/3 Lpm 4 Star WELS rating. By Caroma.
$1347.00
tbs_0203
Supplied with Geberit in wall cistern (no buttons extra).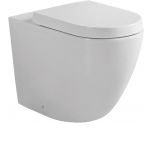 $1399.00
tbs_0262
Elegantly designed, Caroma Contura toilet suites are meticulously detailed throughout. Inspired by European trends and designed to suit an Australian sense of style, Contura toilet suites deliver ageless beauty. Featuring an organic curved design, soft-close lid creates a sleek, integrated look. Universal trap for S or P trap installations. Round, Chrome button assembly. Includes Contura fully integrated soft closing seat Supplied with patented Uni-Orbital® connector that extends to any position up to a 50mm radius - only available with Caroma wall faced toilets Easy access cistern tank inside Vitreous china shroud that removes traditional lid lines. Fully glazed box rim and trap for easier cleaning and hygiene control. WELS 4 Star Rating.
$1499.00
tbs_0260
4 Star WELS Rated. 4.5/3 Lpm.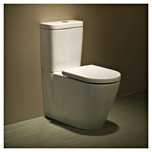 $1514.00
tbs_0207
Compliant AS1428.1 seat available in white and blue. Back Rest optional. Set out 90 - 300mm. By the Roca Group by Gemini.
$1552.00
tbs_0219
Supplied with Geberit in wall cistern (no buttons extra).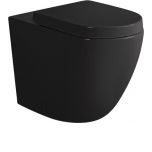 $1599.00
tbs_0263