Products - towel rails
Presenting the uncomplicated, linear architecture of the contemporary Studio 1  range in ultra modern black epoxy. Studio 1 Noir evokes drama and brings a touch of daring to your bathroom design.
$608.00
tpw_1667
600mm x 1050mm x 110 mm depth 72W -240 Volt.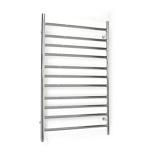 $699.00
tpw_0366
14 bar heated towel rack.
$799.00
tpw_0452