Products - vanities - Wall Hung
White Gloss Cabinet Jarrah Veneer Top with Trend Basin.
$2470.00
vnt_0376
Hard wearing bevelled Cherry Pie Solid Surface (12mm) surround. Matching bevelled slim handle. Large selection of True Justice basins available with this range. Premium Soft-Close drawers with LED glass sides and graphite interior. Soft-Close door with Smart Bin. Available in a number of standard sizes in a modern wall hung design.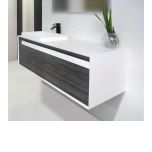 $2479.00
vnt_0353
1500 Wall Hung Double Scoop under-counter basin Smoke Elm textured woodgrain finish with Cherry Pie top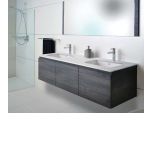 $2489.00
vnt_0197
Simple elegant stylish practical durable the list goes on and on for the SIENNA CARA vanities. Combine above counter basins with our stunning Meganite solid surface tops. The range of five Meganite colours, 15 basins and 24 cabinet colours give you almost endless style combinations. Mix that with 22 handle options, mirror cabinets and tallboys and you will have a bathroom you can call personalised. The silky smooth Blum soft close hinges and drawers give the ultimate touch of quality.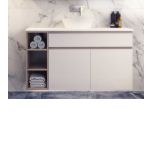 $2507.00
vnt_0384
White Gloss Cabinet Pond Corian Top.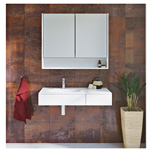 $2550.00
vnt_0377
1200 Wall Hung Double Bowl Matte White Polyurethane finish with Bamboo top including Black SOLAR vessel basin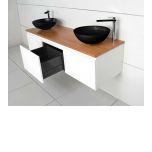 $2717.00
vnt_0195
White Gloss Cabinet American Oak Veneer Top with Elite Basin.
$2870.00
vnt_0372
Satin White Cabinet American Oak Veneer Top with Feather Basin.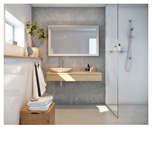 $2870.00
vnt_0375