Product List
Elegant Oak/Satin White Cabinet Pond Corian Top.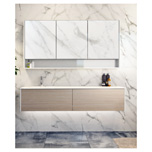 $3280.00
vnt_0369
Lustrous Elm Cabinet.
$3280.00
vnt_0374
1500 Wall Hung Double Bowl Matte White Polyurethane finish with Bamboo top including Black SOLAR vessel basin Axis Mirror extra see vnt_0194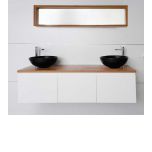 $3407.00
vnt_0196
Single bowl 20mm stone top with ceramic above counter basin.
$3419.00
vnt_0232
American Oak Veneer Cabinet / Aged Oak Veneer Top with Radius Basin.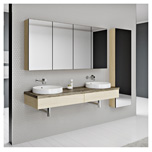 $3420.00
vnt_0373
Hard wearing Cherry Pie solid surface 20mm Friday Hybrid Quartz (pictured with Solar Basin White not included)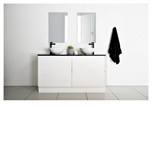 $3430.00
vnt_0405
Two person Island style Spa with generous lumbar areas. 6 x flush centro jets. 8 x flush lumbar mini jets. Sensa-touch pad heat boost pump. 10 year warranty on bath shell. 5 year Warranty on Spa pump,fittings & pipework. By Decina.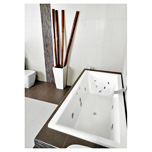 $3493.00
sba_0102
Modern Freestanding Bath, minimalistic design, double ended easy to clean matte finish. Weight 124kg.
$3500.00
sba_0281