BIGA+ Buyers Independent Group Australia - Member Login
Why it pays to be a BIGA+ member
The BIGA+ logo represents our organisation and our brand. Simply put, our brand is our reputation, it is the experiences we create for our members, our customers and the public.
Every interaction an individual or group with BIGA+ generates an impression that contributes to our reputation. Our logo, our stores, our publications and our website are all reputation building experiences. Every interaction is a chance to express our values, expand our reputation or build our brand.
The quality and consistency of our communications is important to how we are perceived. Our communications offer the the promise of better service and a better outcome. We must work as a group to validate this promise.
Our Message is clear
NO
supplier products will be displayed without a trading agreement in place in a
BIGA +
store to validate the unity of the group.
Please use the following guide to ensure our brand is cohesive.
simply better
Here's how you can join BIGA+
To become eligible for membership the following points are some of our requirements.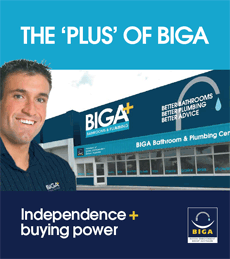 The applicant must retail in plumbing, bathroom and hardware associated products
Your business must not to be situated where a conflict with an existing member could arise
Your willigness to align your business with our suppliers
Other issues for consideration
Do you have trading accounts with any of our existing suppliers?
Do you have a showroom?
Run by members for the benefit of members.
With our very strong membership and
trading agreements with suppliers across Australia
, we enable our members to have plumbing, bathroom and building products/materials at very special prices. This means our members can sell products for less and additionally we source exclusive product lines to enable members to
stay competitive
.

Our Group has in place trading agreements, with a comprehensive suppliers list that enables this to happen. Our message is simple - we are run by the members and, yes, you can have a say in the direction of our group.
Bright Renovations
We pride ourselves on specialising in the best brands and the latest trends.
"...Bright Renovations joined BIGA+ Group in March 2019. It's good to be in a big family of bathroom retailers and know that we are in competition, but at the same time, you are not fighting alone. We help & support each other too!

Since joining BIGA we are able to negotiate group purchase prices from the major suppliers. We also now have access to over 90 supply agreements. We can pass the benefits to our customers and it's a win win situation.

I also found the management of BIGA to be very straight forward & professional to deal with. We communicate on a regular basis, phone conferences or emails, and they have been really helpful whenever I have some questions or concerns. No matter if you are a Bathware products retailer or a Plumbing/Hardware store, I thoroughly recommend joining BIGA LTD. ..."
Din Zhang
Bright Renovations